Well, here we are into another month – the Merry Month of May and it's my favourite month, Mother Nature brings us more wonderful flowers, Bees, Birdsong (the Nightingales seem to be more prolific this year!) the Cuckoo song is changing, and now everywhere is becoming more and more green and the Hawthorn is out, so surely this means warmer weather is on the way?

Our first weekend of the month was a little different as it was Fete du Travail or Fete du Muguet as it is also known as – the Lily of the Valley – spreading the word to bring – luck, happiness and joy to your family and friends – such a lovely tradition! And Sunday – well that was a day of brunch and baking………

I found a fabulous recipe for baking sheet pancakes and really wanted to try it out, however the Buttermilk that it needs was an issue as our local shop doesn't stock it, not to be dettered by this mere problem – it was DIY time and probable the easiest thing ever…. I did use cows milk as I only realised after that I could have actually used the Almond milk in the fridge – lesson learned and noted!

Anyway back to the lovely recipe and I have to say it was absolutely lovely – although I did add defrosted Rasberries instead but still that sharpness really added something with the lemon! Although I am going to make it again with Blueberries and use a sheet pan rather than the deeper pyrex I chose, it took a lot longer to cook but was worth the wait! I did omit the amount of sugar suggested, and used a little coconut sugar and cinnamon instead. I used Gluten Free, Almond and Sorgho (Millet) flour mix, apart from those changes – I kind of followed the recipe!
LEMON BLUEBERRY BUTTERMILK SHEET PAN PANCAKES from SkinnyTaste
PREP TIME:15 mins
COOK TIME:20 mins
TOTAL TIME:35 mins
YIELD: 8 SERVINGS
Serving: 2squares, Calories: 214kcal, Carbohydrates: 35g, Protein: 7gFat:5g, SaturatedFat: 2.5g, Cholesterol: 57mg, Sodium: 503mg, Fiber2.5g, sugar: 9g
COURSE: Breakfast, Brunch / CUISINE: American
Lemon Blueberry Buttermilk Sheet Pan Pancakes – essentially a giant pancake baked in the oven – is the most genius way of making pancakes!
INGREDIENTS
Cooking spray
1-1/2 cups unbleached all-purpose flour
1/2 cup white whole wheat flour
2 tablespoons granulated sugar
2 teaspoons baking powder
1 teaspoon baking soda
1 teaspoon kosher salt
2 tablespoons unsalted butter, melted and cooled slightly
2 cups low-fat, 1% buttermilk
2 large eggs
1 medium lemon, juice and grated zest from
2 teaspoons vanilla extract
1 -1/2 cups blueberries
1/4 cup water
OPTIONAL TOPPINGS: Confectioners' sugar, pure maple syrup, honey, or light whipped cream.

INSTRUCTIONS
Preheat the oven to 425°F. Spray a rimmed 13 × 18-inch sheet pan with cooking spray (this will keep the parchment in place).

Cut a piece of parchment paper to cover the bottom completely. Place on the sheet pan and spray more oil on the parchment and around the sides of the sheet pan.
In a medium bowl, whisk together the flours, sugar, baking powder, baking soda, and salt. In another medium bowl, whisk together the butter, buttermilk, eggs, lemon juice and zest, vanilla, and 1⁄4 cup water until thoroughly combined.
Add the wet ingredients to the dry ingredients and whisk until just combined.
Do not overmix (or worry if there are some lumps).Gently fold in the blueberries with a spatula.
Pour the batter into the prepared sheet pan. Spread evenly with a spatula, then tap the sheet pan on the counter a few times to settle the batter.
Bake, rotating the pan halfway through, until golden and set, about 15 minutes.
Let cool for 5 minutes in the pan.
Place a large cutting board over the top of the pan and flip the pancake onto the cutting board.
Cut into 16 squares. Add toppings as desired and serve.
MEAL PREP:
Cool completely before transferring to an airtight container.
To reheat from the fridge, microwave for 40 seconds, flipping halfway through.
To reheat from frozen, microwave for 45 seconds. Flip and cook for an additional 45 seconds, or until heated through.

As we were waiting for the pancake to cook I thought I would have a flick through one of my other Favourite Cooks pages and found a Basic Butermilk bread recipe, so thought may as well try it – for this recipe I used Epautre flour (Spelt) and again omitted the sugar and added a little coconut and cinnamon again….but to be fair the recipe is your base so anything goes in that you fancy, for inspiration then click on the link as there are so many ideas!
Basic Buttermilk Quick Bread from the Kitchn

https://www.thekitchn.com/how-to-make-buttermilk-quick-bread-with-10-different-variations-164621#post-recipe-8356
INGREDIENTS
2 cups all-purpose flour (10 ounces)
1/2 cup white sugar (4 ounces)
1 1/2 teaspoons baking powder
1/2 teaspoon baking soda
1 teaspoon salt
1 cup buttermilk (8 ounces)
1 large egg
1/4 cup unsalted butter, olive oil, or vegetable oil (2 ounces)
INSTRUCTIONS
Heat the oven to 350°F. Grease or spray with non-stick cooking spray a standard 9×5 loaf pan.
Whisk together the flour, sugar, baking powder, baking soda, and salt in a medium mixing bowl. Melt the butter, if using. Whisk it in a separate bowl with the buttermilk and the egg.
Pour the liquid ingredients over the dry ingredients. Gently stir and fold the ingredients until all the flour has been incorporated and a shaggy, wet batter is formed. Be careful not to over-mix.
Scrape the batter into the prepared pan and pat it into the corners. Bake for 45-50 minutes. When finished, the loaf should be domed and golden, and a toothpick inserted into the centre should come out clean. Let the loaf cool in the pan for 15 minutes before removing and slicing.
Wrap baked loaves tightly in plastic wrap and store at room temperature. Baked loaves can also be wrapped in plastic and aluminium foil and frozen for up to three months.

It's that simple – it's absolutely delish – we had one slice straight out of the oven just to make sure!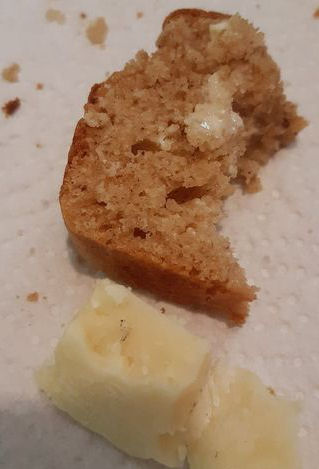 Many of you may know how to make Buttermilk – I had an inkling but wasn't 100% sure, a quick look around and the recipe was found and yes, as easy as I had hoped!
We don't see buttermilk (Lait de Ribot) here very much, locally! I was excited to find our local SuperU sold Kefir once!
And I have always prefered Lait Cru and have often bought lait de Ribot because I found that I didn't feel yukky after having it as I do with Cows milk – which is why I also prefer Plant based milks…. now I know more about Buttermilk, I now know why my tummy just is happier after drinking it. Obviously it doesn't work in Tea, Coffee or Hot Chocolate but it does for me work as a drink on it's own or with cereals.
BUTTERMILK

Buttermilk is a fermented dairy product.Most modern buttermilk is cultured, meaning that beneficial bacteria have been added to it. It's different from traditional buttermilk, which is rarely found in Western countries today!
The name buttermilk is somewhat misleading, as it doesn't contain butter.
Traditional buttermilk is the liquid leftover after whole milk has been churned into butter. This type of buttermilk is rarely found in Western countries today but remains common in parts of Nepal, Pakistan, and India.
Buttermilk today consists mostly of water, the milk sugar lactose, and the milk protein casein.
It has been pasteurized and homogenized, and lactic-acid-producing bacteria cultures have been added, which may include Lactococcus lactis or Lactobacillus bulgaricus.
Lactic acid increases the acidity of the buttermilk and prevents unwanted bacterial growth, which extends its shelf life. It also gives buttermilk its slightly sour taste, which is a result of the bacteria fermenting lactose, the primary sugar in milk .
Buttermilk is thicker than milk. When the bacteria in the beverage produce lactic acid, the pH level is reduced, and casein, the primary protein in milk, solidifies.
For those that like to know "stuff" – when the pH is reduced, the buttermilk curdles and thickens. This is because a lower pH makes the buttermilk more acidic. The pH scale ranges from 0 to 14, with 0 being the most acidic. Cow's milk has a pH of 6.7–6.9, compared with 4.4–4.8 for buttermilk.
Health benefits of buttermilk
One serving of buttermilk is a good source of several nutrients, including protein, calcium, and riboflavin.
Buttermilk may offer several health benefits, including improved blood pressure and bone and oral health.
May be easier to digest than other dairy products
The lactic acid in buttermilk can make its lactose content easier to digest. Lactose is the natural sugar in dairy products.
Many people are lactose intolerant, meaning that they don't have the enzyme needed to break down this sugar. Approximately 65% of people worldwide develop some degree of lactose intolerance after infancy.
Some people with lactose intolerance can drink cultured dairy products with few to no side effects, as the lactose is broken down by the bacteria.
May support strong bones
Buttermilk is a good source of calcium and phosphorus, as well as vitamin D if it has been fortified. Full-fat varieties are also rich in vitamin K2.
These nutrients are important for maintaining bone strength and preventing degenerative bone diseases like osteoporosis, but many people don't get enough of them.
May improve oral health
Periodontitis is the inflammation of your gums and supporting structures of your teeth. It's a very common condition and caused by periodontal bacteria. Fermented dairy products like buttermilk may have anti-inflammatory effects on the skin cells that line the mouth.
May help lower cholesterol levels
In a small 8-week study in 34 adults, consuming 45 grams, or approximately 1/5 cup, of reconstituted buttermilk (buttermilk powder mixed with water) daily reduced total cholesterol and triglycerides by 3% and 10%, respectively, compared with a placebo.
Downsides of buttermilk
Buttermilk may also have several downsides related to its salt content and potential to cause allergic reactions in some individuals.
Can be high in sodium
Milk products contain good amounts of sodium, making it important to check the nutrition label if you need to limit your sodium intake.
Consuming a lot of sodium is associated with an increased risk of high blood pressure, especially among individuals who are salt sensitive. High blood pressure is a risk factor for heart disease.
For people who are sensitive to dietary salt, high-sodium diets can damage the heart, kidneys, brain, and blood vessels.
Low-sodium foods are defined as having 140 mg of sodium or less per serving. In comparison, 1 cup (240 ml) of buttermilk can pack 300–500 mg of this nutrient.
Notably, lower-fat buttermilk often contains even more sodium than higher-fat versions.
May cause allergic reactions or digestive issues in some people
Buttermilk contains lactose, a natural sugar to which many people are intolerant.
Although buttermilk appears to be more easily digested by some people with lactose intolerance, many may still be sensitive to its lactose content.
People who are allergic to milk — rather than intolerant — should not consume buttermilk at all.
How to make buttermilk substitutes
If buttermilk isn't available or you prefer to use something else, there are several substitutions. That can be made for buttermilk in baking. Many use a combination of an acid and either dairy or nondairy milk.
Acidified buttermilk
To make acidified buttermilk, you need milk and an acid. When the two are mixed, the milk curdles.
Acidified buttermilk can be made using dairy milk of any fat content. It can also be made with non-dairy milk alternatives, such as soy, almond, or cashew milk. Acids such as lemon juice, white vinegar, or apple cider vinegar work well.
The ratio is 1 cup (240 ml) of milk to 1 tablespoon (15 ml) of acid. Gently mix the two ingredients and let the mixture sit for 5–10 minutes until it begins to curdle.
Plain yogurt
Like buttermilk, plain yogurt is a fermented dairy product. You can use plain yogurt as a substitute for buttermilk in baking at a 1:1 ratio.
If the recipe calls for 1 cup (240 ml) of buttermilk, you can substitute 1 cup (240 ml) of yogurt.
Cream of tartar
Cream of tartar is a by-product of wine production. It's an acid commonly used in baking as a leavening agent. This is because combining cream of tartar and baking soda produces carbon dioxide gas.
Mix 1 cup (240 ml) of milk and 1 3/4 teaspoons (6 grams) of cream of tartar and let it sit for a few minutes.
To prevent the mixture from getting lumpy, mix the cream of tartar with a few tablespoons of milk before adding it to the rest of the milk.

I hope you take the chance to enjoy making the Buttermilk – great for the young ones as well, nothing like a little "science".

Right I am off outside to enjoy the sun and hopefully some warmth and less of a chilly wind!

Have a lovely week and here's to seeing you at some point soon – hopefully!