Are you looking for a gift for a loved one? Then keep reading, as I have been adding a little Treatment Room love into a gift bag!
I do get so many lovely comments about the scents, and the new ideas that have been introduced, so I thought why not create a gift that is suitable for all, the gift of RELAXATION! My clients enjoy relaxing in the Treatment ROOM, so I thought I would putting together a gift bag to bring some of the elements of the TR to be enjoyed in the home seemed a bit of a brainwave quite honestly!
relaxation /riːlakˈseɪʃ(ə)n/
noun
A feeling of refreshing tranquility and an absence of tension or worry
The state of being free from tension and anxiety.
The feeling of rest and peacefulness that can come from this freedom is also called relaxation. it comes from latin: re- means "again," laxare means "loosen," and the suffix -ation means "the state of." so relaxation is the state of loosening something again.
The loss of tension in a part of the body, especially in a muscle when it ceases to contract.
A way of resting and enjoying yourself; time spent resting and enjoying yourself.
We know why relaxation is important, we all need the time to "let go" being busy is great, not having a break not so much…..we need to re-learn how to relax and rejuvanate, our bodies need to have the chance just to be….so let me introduce my newly created and rather scenty goodies, and the reasons as to why I chose particular products and of course and most importantly the benefits of the GIFT OF RELAXATION BAG…..the gift for all….
THE WEIGHTED RELAXING EYE PILLOW – I introduced this lovely addition in the TR as the perfect way of enabling further relaxation whilst clients are having a massage. Made from 100% sustainably sourced and produced cotton and weighing in at 170gms the perfect weight for your eyes, the inner is pre- filled. I have prepared the rice and linseeds adding the aromatherapy blend to the ingredients at the time of preparation, thus making the rice and linseeds smell longer and also makes the pillow safe for warming or cooling treatments.

The eye pillow can be placed in the microwave to warm it through for about 30 seconds. You can warm it through in your conventional oven by placing it in a glass dish and cover with a lid for around 10minutes, checking frequently!
Alternatively place in the "cool eye pillow bag" provided and pop in the refrigerator until thoroughly chilled through. It is not recommended to place in the freezer as the freezing temperature could damage your eyes but if you wish to use it for tendon pain etc. then it is possible to freeze it in the bag provided. Alfapac Vegetal Bag is made from 35% renewable plant materials from sugar cane; the carbon footprint is reduced by 35% compared to petroleum-based bags. Simply seal your eye pillow in the bag and place in the fridge.
The Holistically Yours Eye pillow has been prepared for you, ready to use. A refresh of a few drops of the relaxing essential oil blend can be added when needed; this eye pillow has an inner lining which contains a blend of linseeds, rice, Lavender and sage. *Gift Bag Angel eye pillow has added dried lavender and sage whilst Gift Bag Soy Scents, the eye pillow does not have the added dried lavender and sage leaves. The outer cover is washable on a low wash. The weighted eye pillows will last for a very long time and all that needs to do be done is top up with the essential oil blend when the scent disappears.
What are the benefits of Weighted Eye Pillows?
The weight of the eye pillow mainly works by applying light pressure on the eye balls which lowers the heart rate by stimulating the oculocardiac reflux. The light weight pressure can be very calming and soothing.
The Weighted Eye pillow not only soothes your eyes after a long, tiring day, but also benefit in other ways, they are not only designed to soothe and relax tired eyes but the aromatic effect of essential oils and herbs that are infused in the rice and linseeds can help calm and rest the mind.
The beauty of the eye pillow is its many uses, hot or cold for other purposes that require heat or cold therapy, including aching muscles, tendonitis, period pains etc.

To aid eye strain, headaches and heatstroke. As a refrigerated eye pillow, it cools the eyes aiding a deeper relaxation.

Weighted Eye pillows aren't just for soothing tired eyes, they can actually help us to relax more deeply, to improve our mood and our sleep. Like a Weighted blanket an eye masks offers deep pressure stimulation, which can relax the nervous system.

*It is advised that this pillow can be used for relaxing prior to sleep but it is not recommended to use whilst sleeping.*
Common properties of eye pillows: Relieves irritated, itchy and burning eyes caused by over exposure to television, sitting in front of computer screens. Sedates the nerves, relaxes the mind and balances the body. Using the weighted eye pillow regularly will help with relaxation and feeling of wellbeing.
THE ESSENTIAL OIL BLEND – Ancient Wisdom know their oils – All their oils are studiously selected, tested for purity and subjected to rigorous quality control standards and they have bottling essential oils for over 20 years! I love their blends, which I also use in the Treatment Room. The popular one this summer has been the RELAXING blend which is why I chose this one for the eye pillows.
This blend contains Lavender and Mandarin which helps relax the mind and body and provide a sense of well-being.
Benefits of Essential Oil
Lavender is for stress and irritability while mandarin nourishes the nervous system and helps reduce feelings of exhaustion.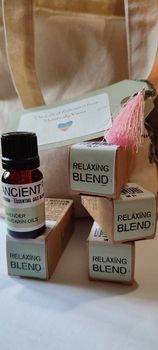 Relaxing Blend
* To use with the eye pillow sprinkle up to 10 drops directly into the inner cover and shake the contents to mix together. Please Keep the Essential Oil away from Babies, Children & Animals and wash hands once the drops have been added.*

THE TRIO OF CRYSTALS – why have I chosen to add crystals? Well anyone that knows me will know that I have a love of crystals and always have done – for me they are a go to, for aches and pains, to feeling under the weather or, just touching and enjoying the feel of them, they have a comfort factor surrounding them and really, they are wonderful pieces of nature.
About Small African Tumble Stones
Different gems are said to have different properties, and for thousands of years they have been made into rings, bracelets, amulets, brooches & pendants to capture their magic.
Rough crystals are polished for several weeks in a large machine called rock tumbler, until all edges are smoothed and material has the desired shine. Thanks to this process, each gemstone is one-of-a-kind.
I have chosen these particular Tumble stones for their relaxation properties and to aid grounding and clarity amongst their other benefits written below.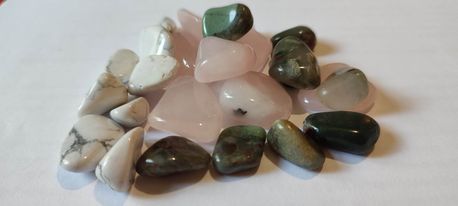 Seftonite (also known as Vulcan Jasper) it is said to be an excellent grounding stone, it is helpful for a confused mind, bringing calm and clarity. Seftonite is a stone of balance when we are feeling stressed. It helps to calm our mind, remove confusion and can help to revitalise us. Seftonite enhances both our creativity and our intuition and also helps us to make the most of whatever talents and abilities we possess. It stimulates emotional growth and sensitivity and helps develop our ability to make decisions. Whilst Seftonite provides us with inner strength and courage, it also helps us to avoid dangerous situations by helping us to recognise when we need to either make a strategic withdrawal or be much more flexible.
White Howlite White Howlite carries a whole host of healing properties that help to soothe the mind, the body and the spirit. This calming stone is always ready to help cool down fiery tempers, slow down heartbeats and help us lead with wisdom. It vibrates gently, which helps us to connect and flow, raise our own sense of awareness, and eliminate any cloudiness.
Howlite is a highly emotional stone but it contributes a great deal to aiding in physical health. In terms of physical health, the bone-coloured stone can help to balance calcium levels in the body. With this stone, you can begin to strengthen your skeleton and teeth, as well as grow luscious and shiny hair. The stone also helps to signal the water element, which means that it can remind your body of when it is time to drink more water, sip on some herbal tea or even soak in a nice long bubble bath.
Rose Quartz is the stone of unconditional love. It is a symbol of friendship, a token of beauty and beloved healing crystal.
The use of rose quartz is said to date back as far as 7,000 B.C. It's also been claimed that Egyptian and Roman women used rose quartz face masks to clear their complexions and prevent wrinkles.

In many parts of the world, it is referred to as the Heart Stone, a fitting name for a stone with healing properties strongly linked to the heart. It can be used to assist with healing from trauma, or other emotional wounds. For those desiring more love to be a part of their lives, the stone can assist. This can be a focus on romantic love, but can also be other forms of love, such as compassion and friendship.
The Tumble Stones are charged with Reiki and are presented in their own gift bag with a little information about the properties of each stone.
The Soy Scented Candle
Scented Candle are handmade from pure soy wax woven with essential oil and cotton. One of the healthiest way to keep your home cleaner from paraffin candle fumes. Soy candle burns for 12-15 hours, create a mood-enhancing atmosphere to aid your relaxation time with your eye pillow.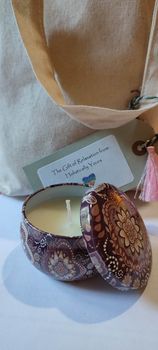 The Incense Cones
People have burned incense for centuries for a variety of reasons. Incense is one of the best ways to keep your home smelling lovely, but they can also change your mood or help you relax.
The Moon Angel Incense Cones with their soothing, floral aroma will comfort you, whenever you will need. Place your cone in the handmade ceramic dish, light and enjoy the aroma whilst relaxing with your eye pillow.
A beautiful handmade Incense dish made by Ceramique de Linda is included in the Gift Bags.
CHOOSE THE GIFT BAG – there are two choices both with identical items, however Gift Angel contains Angel Incense Cones whilst the other Gift Soy Scents contains a beautifully scented Soy Candle in a pretty tin.
The weighted eye pillow and ceramic incense holder are gift wrapped.
Gift of Relaxation – ANGEL
Gift bag contains:
1 x 170g eye pillow filled with prepared rice and linseeds, lavender & Sage
1x Alfapac Vegetal Origin Double Seal waterproof 'Cool eyepillow' Bag
1 x 10ml bottle premium essential oil blend of Lavender & Mandarin
1x rose quartz, 1x seftonite & 1x white Howlite tumble stones charged with Reiki
1 x box Moon Angel incense cones
1 x handmade ceramic incense cone dish handmade by Céramique de Linda
I have added some new incense to choose from, however at the moment I only have 3 of each box in stock, these can be swapped out for the Moon Angel incense.
Sandalwood is known as the most exotic and valuable woods in the world, Sandalwood is much sought after for its precious oil. This Sandalwood incense provides a full bodied fragrance which is evident in the natural oil.
Sandalwood is a proven relaxant, decreasing anxiety, calming the nervous system, and assisting with better quality sleep. Its benefits are realised upon inhalation of the sweet woody fragrance or when absorbed through the skin.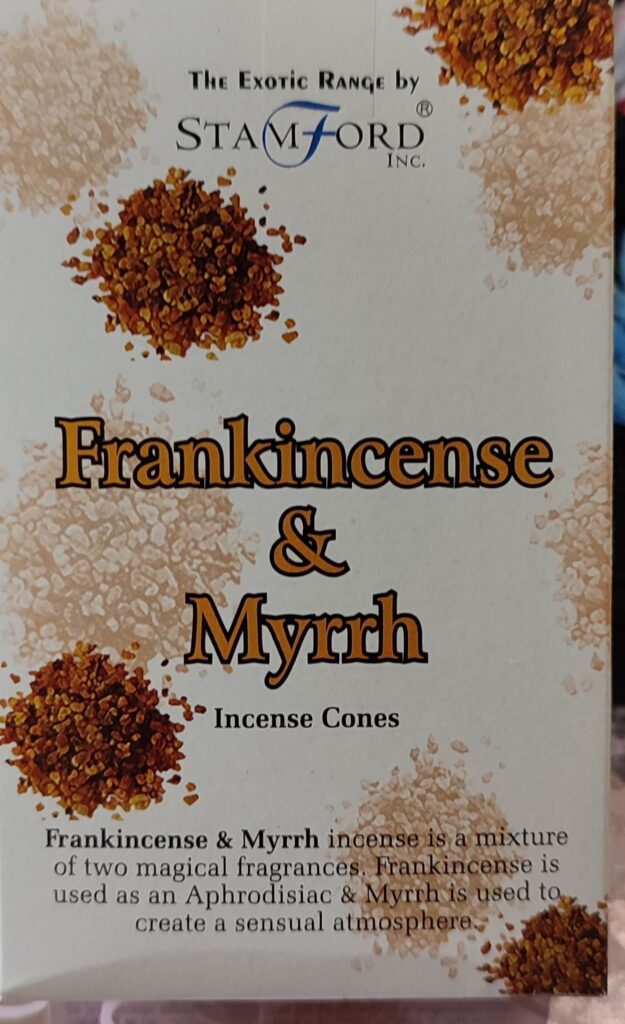 Frankincense & Myrrh incense is a mixture of two magical fragrances, Frankincense is used as an Aphrodisiac & Myrrh is used to create a sensual atmosphere. Personally I feel this blend of incense offers the best of both worlds – brought together in a scented cone with benefits!

Frankincense and myrrh are from the same plant family (Burseraceae) and grow as small shrub-like trees in dry climates; such as India, Oman, Ethiopia, Somalia, Yemen and Saudi Arabia. The resin of both plants has been used medicinally and for spiritual practices for over 5,000 years, and with good reason.

Frankincense: Since ancient times, Frankincense has been used to help heal the body, mind, and soul. It can be used for meditation and cultivating inner peace. It also acts as an energetic purifier.

Perhaps most interestingly, a scientific study has suggested that burning frankincense resin may relieve symptoms of anxiety and depression. Although this sacred incense is not a magic cure for mental health issues, if you suffer from either of these ailments, frankincense may help to lessen the severity of your symptoms and support other forms of treatment such as therapy.

Myhrr: One recent study found that burning myrrh and frankincense incense reduced airborne bacterial counts by 68% . Preliminary research suggests that myrrh can directly kill bacteria, as well as stimulate the immune system to make more white blood cells, which also kill bacteria!

Additionally, if you are feeling overwhelmed, it is recommended that you burn some myrrh nearby to help you relax and calm your nerves.

Lavender Incense Cones
Lavender is know to have healing and calming effects. This specially formulated Lavender Incense is said to create a comfortable and relaxed atmosphere.

Many use Lavender to fragrance the home and in incense form it is perfect for creating a warm and relaxing environment.
Used to relieve anxiety and mental tension, this scent is perfect for lifting your emotional wellbeing and creating a harmonious balance to your inner psyche.

Cleanses Your Environment Increases Concentration and Creativity. Lavender is frequently used in charms and ceremonies for purification. It may be used to purify the aura, get rid of bad energy, and encourage healing.

Helps Encourage Restful Sleep
Lavender's fragrance has been demonstrated to reduce nervous system function, which can make you feel more at ease and encourage sleep. Lavender is a great organic sleep aid, so think about incorporating it into your bedtime regimen. Lavender is a great choice for reducing anxiety and tension since it has a relaxing influence on the muscles and brain.
Lavender can lower anxiety and stress issues. Take a few slow, deep breaths and concentrate on the aroma of lavender when you are feeling pressured. This straightforward action can assist in calming and centering you, making it simpler to manage challenges.
The lovely handmade Ceramic Dishes by https://www.facebook.com/LesCeramiquedeLinda are random colours and designs. Each one is gift wrapped to prevent breakages.
Please use incense with caution, make sure that your room is well ventilated and do not leave unattended.
Gift of Relaxation – SOY SCENTS
Gift bag contains:
1x 170g eye pillow filled with prepared rice and linseeds
1x Alfapac Vegetal Origin Double Seal waterproof 'cool eyepillow' Bag
1x 10ml bottle premium essential oil blend of Lavender & Mandarin
1x rose quartz, 1 seftonite & 1 white Howlite tumble stones charged with Reiki
1x Pure Soy wax candle in a reusable tin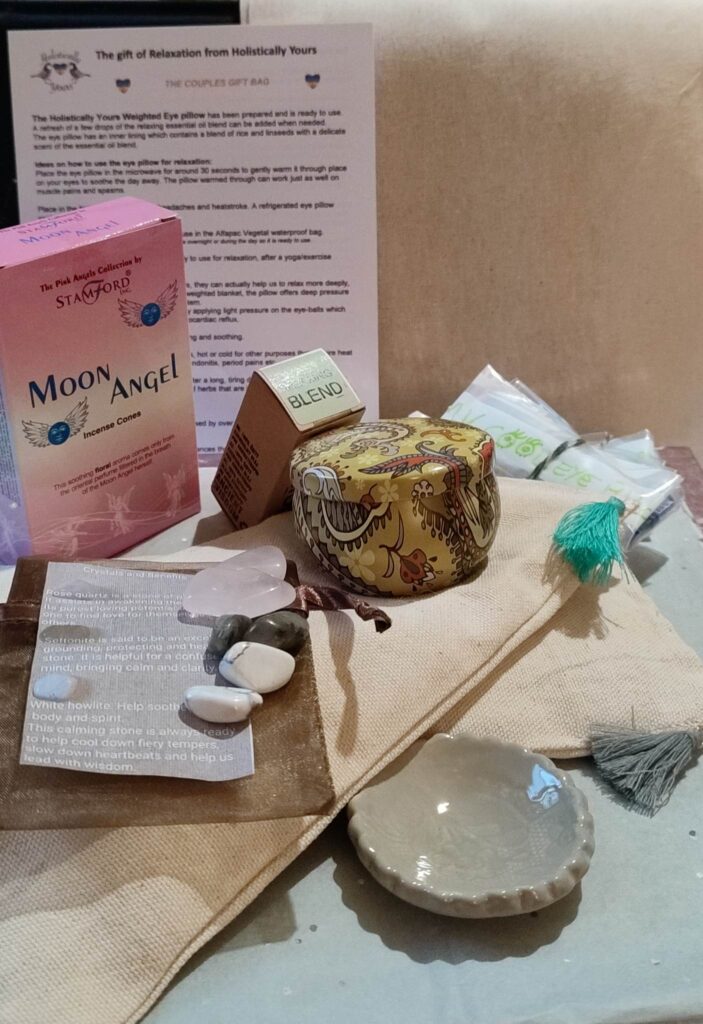 *Please note that the soy candles are random scents and tin design
A gift bag which contains some items that I think , will make a lovely gift for anyone – including yourself #metime counts .
The weighted eye pillow can be used for adults, teenagers and children. However if you have any known allergies, proceed with caution prior to using with the essential oil blend.
An unscented weighted eye pillow can be made to order using just linseeds.
All the items have been chosen where possible for sustainability and are eco friendly, for instance the tote gift bag, the eye pillow covers, the string on labels and gift wrapped eye pillow are all 100% cotton and sourced reliably, the gift wrap and labels are FSC approved, and the "cool eye pillow bag" is made from is made from 35% renewable plant materials from sugar cane; the carbon footprint is reduced by 35% compared to petroleum-based bags. The Cotton totes, pillow cover and inner and incense cones are made in India the supplier takes time to visit all the factories and ensure that workers and out-workers are not exploited. By buying these products we are actually helping to create meaningful employment in poor communities in India.
*factoid – Linseed cultivation is essentially concentrated on the European continent with 80% of global production, but France remains the leading producer of flax with 60% of worldwide production! For optimal development, the flax plant needs an alternation of exposure to sunlight and humidity. Since the oceanic climate of our coastal regions favours its development, the irrigation process takes place naturally.
With further thoughts to making our planet more sustainable, all the items in the Gift of RELAXATION bag can be recycled.
"No effort is too small. All efforts can contribute to a positive change, and we must take responsibility in the areas where we can help make a difference."

CRESTEN GRENE AND MIKKEL GRENE, OWNERS OF SØSTRENE GRENE
As you may see, I have put a lot of thought into these Gift of RELAXATION Bags, bringing a little of the Treatment Room and benefits of relaxation to you or a loved one, at anytime of the year it's definitely all about #HYselfcare.
If you would like to any further information or would like to place orders please let me know, the turnaround time at about 2 weeks but as we enter December it could take a little longer.
If you would like to know of other products that I can add to your bag, please let me know….I can order them for you….
These GIFT BAGS are available to buy directely from me, for collection from the Treatment Room or we can arrange a meeting point. Payments can be made in cash, paypal or by card.

THE GIFT OF RELAXATION BAG 'ANGEL or 'SOY SCENTS' is 20€00
'THE COUPLES' GIFT OF RELAXATION BAG is 30€
Some very lovely feedback from some very happy people! Thank you – I am feeling the love …..
"Great gift idea, I will be ordering more very soon, for new year presents"
"Love this bag of relaxation goodies, a lovely gift to give or receive"
"Well that's the parents tree presents sorted"
"With 3 women in my life to buy for, I'm definitely ordering"
Already purchased one of your bags for that friend who has everything.Your gift bags are such a great idea with much thought gone into them!
Brought my bag for my friend she will be delighted ,its a super bag of lovely goodies, thank you Sharon
The perfect gift for a friend who has everything. So much thought has gone into these and I know my friend will love hers.Get yours now, what you waiting for? Claire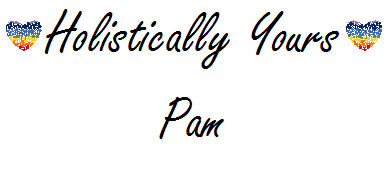 I have included the Essential Oil Blend, but please do use safely around younger children the blend is lovely for helping all age groups to relax and aids stress and much more. when adding more Essential Oil blend, I would suggest no more than 5 drops to the ingredients in the inner pillow…the rice and linseeds have been pre-blended but will need a top up at some point. NEVER apply the blend directly to the skin.
An important cautionary note. No essential oil should ever be used for newborns under 3 months. Similarly, they should never be ingested by a child. It's also advisable to avoid using with infants or children who have asthma. As this product range is made of pure Essential Oil Blends it is recommended to dilute witha base oils before applying to the skin.