On my quest to find lovely Essential Oil blends for my Indian Head Massages, the blends are being used and enjoyed and so far have continued to be a hit, I always make sure that my clients have the blend of their choice at the time of the Indian Head Massage – I know there are some clients that favour a particular one, so I incorporate that Essential Oil to their blend for their regular IHM Treatment, I like to make sure that it is a personal choice and that the reason that particular blend has been chosen will then enhance and benefit the IHM to the clients enjoyment, relaxation and well being! We will always discuss the type of blend you may wish to use for your treatment and when contraindications show, we use an alternative that is still uplifting and aids the wellbeing, this is why it is essential we discuss any type of health issue/allergy.
*It is also recommended that the clients do not go home and shower immediately but try to leave the oils on their hair/body for as long as possible furthering the Essential Oils beneficial properties….

I have many people asking about oils that are good for pain relief, such as arthiritis, shoulder problems etc… there are many oils that can and do aid pain relief…..and I try to make blends that will suit "pain" which is a very broad spectrum but by having one or two blends that may help at hand it gives clients a chance to try and see if indeed they like the blend. As I have said previously if you let me know prior to your appointment I will make a blend especially for you. I blend Essential Oils that are beneficial to the balance of your wellbeing and some may not like the particular scent of a blend but remember, they have been blended to help ease ailments. Please also remember all the EO blends I make are applied topically and have a base oil, again it helps me to know if you have any allergies to plants/nuts prior to our appointment.
The Essential Oil in the bottle for September is..
Marjoram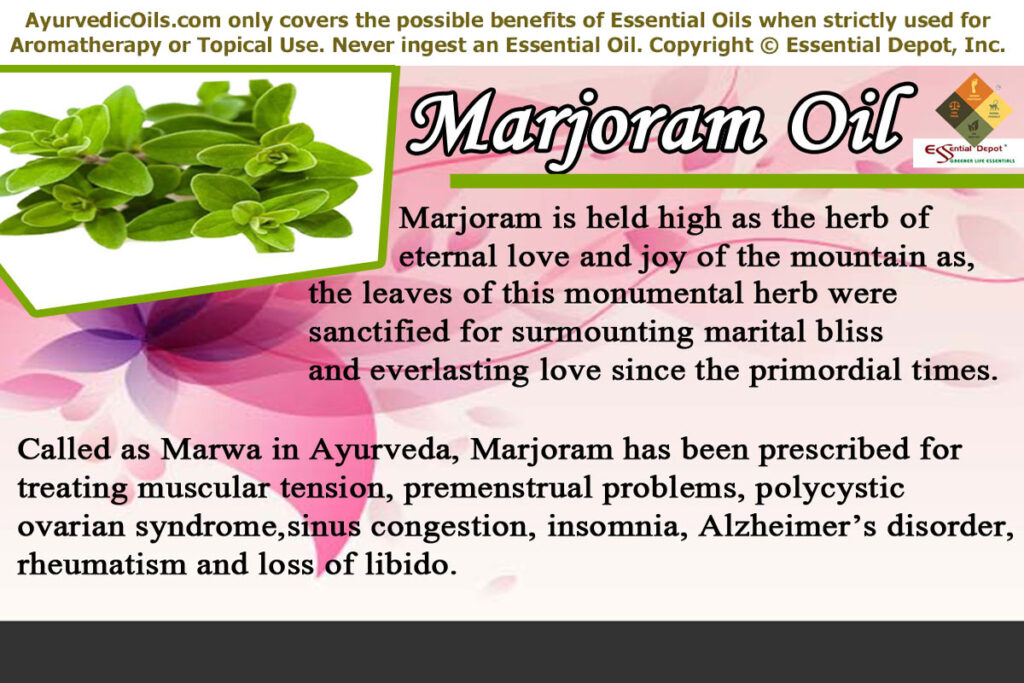 Marjoram Essential Oil smells herbaceous, sweet, woody and has an underlying delicate floral note.


---
Marjoram, also known as sweet marjoram, is an aromatic herb in the mint family that has been grown in the Mediterranean, North Africa,and Western Asia for thousands of years… it also has an interesting place in early Greek mythology.
As the story goes, the goddess of love, Aphrodite, grew marjoram, and, as a result, marjoram has been used ever since in various love potions.
Marjoram essential oil has the properties of anesthesia and tranquilization, which has special effects on soothing emotions and can fight against depression, sadness, tension, and anxiety.
Insomnia patients can get a sweet night's sleep after enjoying the warm bath or massage incorporating marjoram!
Marjoram Essential Oil Uses:
Muscle Relaxant
Muscular And Abdominal Pain
Headaches
Menstrual And Menopausal Symptoms
Bruises
Gastrointestinal Disorders
Indigestion
Spasms
Constipation
Irritable Bowel Syndrome
Diverticulosis
Insomnia
Stress
Anxiety
*Emmenagogue
If you suffer from irregular, painful or obstructed menstruation, you should consider using marjoram essential oil.
Marjoram oil can help alleviate other symptoms of menstruation such as; headache, dizziness, and mood swings. Marjoram essential oil could also prevent premature menopause.
And of course due to the healing properties of Majoram, being antiseptic, bactericidal, and fungicidal it is ideal infections of the scalp.

From dandruff to psoriasis this oil can be used to help with scalp ailments and excessive dryness. The oil can be directly rubbed into the scalp to not only fight scalp ailments but also nourish the hair follicles.

Marjoram also has antimicrobial properties. Common uses include applying it diluted essential oil to skin to treat fungal infections.
Warnings
Pregnant or breastfeeding women should avoid marjoram supplements.
Due to its influence on various reproductive hormones and menstruation, this herb may trigger negative side effects during pregnancy).
May affect blood clotting
Marjoram supplements may inhibit blood clotting, as it can impede platelet formation, which is a key factor in bloodclotting. This may be especially concerning for anyone taking blood thinners.
May interact with certain medications
Marjoram may interact with certain medications, such as blood thinners and anticoagulants, to increase your risk of bleeding.
It may also interact with some diabetes medications by lowering blood sugar, potentially resulting indangerously low levels. If you have diabetes, consult your healthcare practitioner before taking marjoram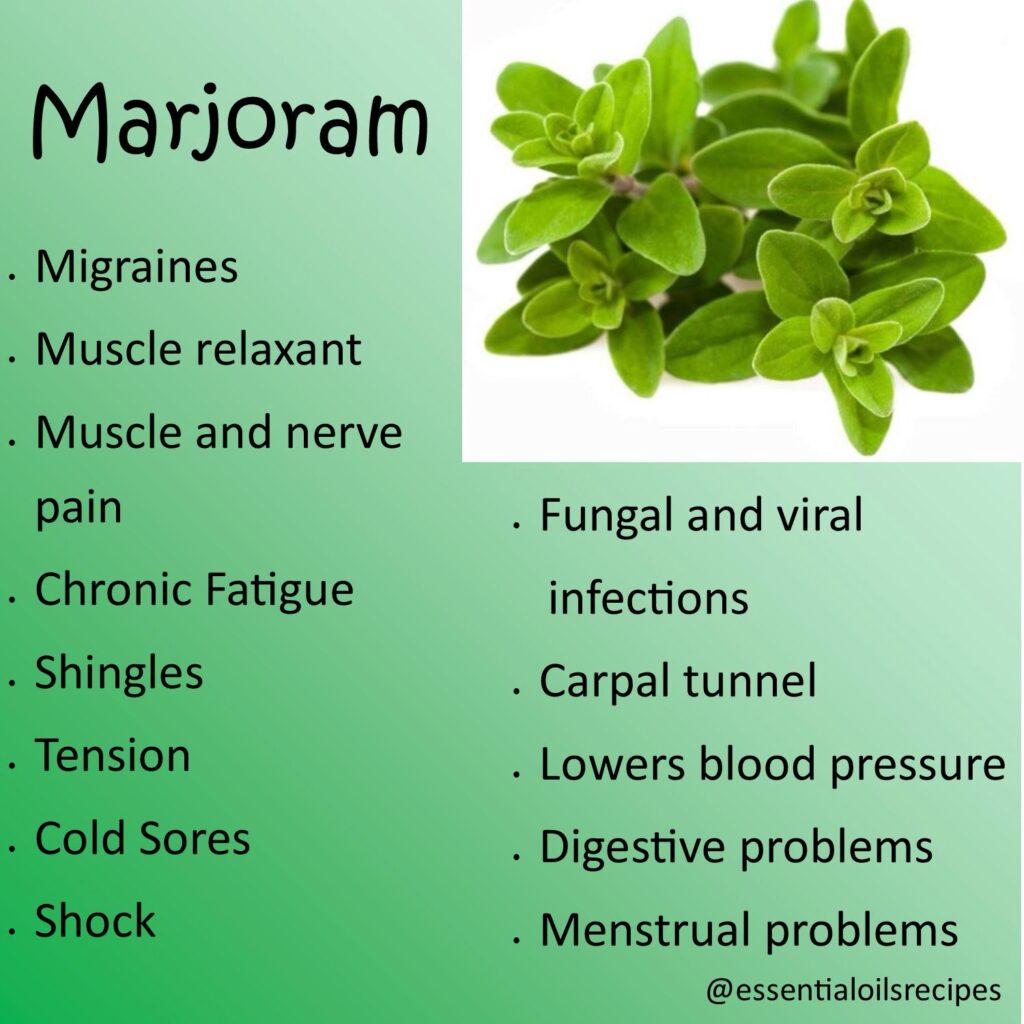 Hope to see you soon and please stay safe!

Anyone wishing to book an Indian Head Massage please feel free to PM me and we can have a chat. I have Covid 19 protocols in place and the Treatment Room is ready & I am ready to Treat you.
Covid19 Measures….
📍I am following all Covid19 measures and I have completed the certification for the Barbicide Course.
📍 I wear a mask during the whole time of your Treatment and ask that masks are worn at all times.
📍Please wear loose clothing that you are happy to keep on without feeling too hot, I do supply a wrap which covers your clothing but allows me to access your back, shoulders and neck.
📍Please do not wear any jewellery, if you have long hair please wear it up in a hair clip.📍Please shower before you come for your treatment!
📍If you have travelled recently please allow fourteen days before booking your Treatment/s
.📍If you are unwell before or even on the date of your treatment, please let me know and we can re-arrange.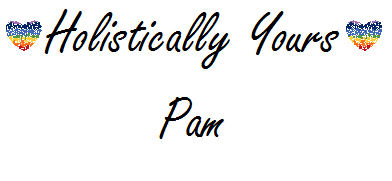 *emmenagogue
noun A Herb, drug or agent that induces or hastens menstrual flow.
Avoid using if pregnant or you suspect you maybe pregnant.


* This information is not intended to replace the advice of a doctor. Holistically Yours disclaims any liability for the decisions you make based on this information.