HOLISTICALLY YOURS·SATURDAY, 11 MAY 2019·

I thought this would be a good place to share my lovely Essential Oil Picks, it's hard to choose which are really my favourites as each and every one has a different smell, different health benefits and obviously many Oils have similar components, anti-fungal, anti-bacterial etc…but for me I am finding new Essential Oils and am blending them to suit clients needs – most will generally have uplifiting top notes. I aim to blend for each Top to Toe day so that there is a choice as not everyone likest the same and we seem to be drawn to a favourite. Each month I will share the new Essential Oil and it's benefits to your wellbeing, skin and hair!
The blends are being used and enjoyed and so far have continued to be a hit, I always make sure that my clients have the blend of their choice at the time of the Indian Head Massage – I know there are some clients that favour a particular one, so I incorporate that Essential Oil to their blend for their regular IHM Treatment, I like to make sure that it is a personal choice and that the reason that particular blend has been chosen will then enhance and benefit the IHM to the clients enjoyment, relaxation and well being! We will always discuss the type of blend you may wish to use for your treatment and when contraindications show, we use an alternative that is still uplifting and aids the wellbeing, this is why it is essential we discuss any type of health issue/allergy.
*It is also recommended that the clients don't go home and shower but try to leave the oils on their hair/body for as long as possible furthering the Essential Oils beneficial properties….

I have many people asking about oils that are good for pain relief, such as arthiritis, shoulder problems etc… there are many oils that can and do aid pain relief…..and I try to make blends that will suit "pain" which is a very broad spectrum but by having one or two blends that may help at hand it gives clients a chance to try and see if indeed they like the blend. As I have said previously if you let me know prior to your appointment I will make a blend especially for you. I blend Essential Oils that are beneficial to the balance of your wellbeing and some may not like the particular scent of a blend but remember, they have been blended to help ease ailments. Please also remember all the EO blends I make are applied topically and have a base oil, again it helps me to know if you have any allergies to plants/nuts prior to our appointment.
I have made some lovely Essential Oil blends recently but I have to say today I have probably blended my favourite so far!
The new essential oil in the bottle is….
PALMAROSA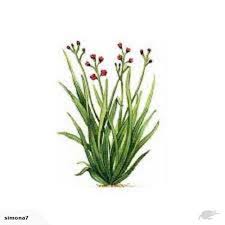 Alhough its name, Palmarosa, makes it sound like it might be a tree or a rose plant, Palmarosa essential oil actually comes from a grass with the botanical name of Cymbopogon martini. Found in two varieties, Motia and Sofia (also referred to as chemotypes), there are two ways it can smell, though the differences in aroma vary only slightly.
Benefits of Palmarosa Oil
Palmarosa oil is well-known for its hydrating properties,10 and can assist in preventing inflammation and quelling dehydration.
It also balances the sebum or oil production of your skin, aids in the healing of cuts and bruises, and helps remedy acne breakouts.
Palmarosa oil's health benefits are also often attributed to its antiseptic and antimicrobial properties. Researchers found that palmarosa essential oil was the most effective against species of bacteria.
Palmarosa oil can also serve as an antiviral agent. The oil can also protect wounds from infection with its function as an antiseptic.
The essential oil of palmarosa is considered completely safe. It is a nonirritant, nonsensitizing and nontoxic plant oil.
However, pregnant and nursing women should first consult their doctor before using palmarosa oil, while children below 6 should be kept away from any essential oil because of their sensitive systems.
I have blended Palma Rosa with Geranium which is balancing and uplifting, it also aids tired and aching muscles, heals dry skin and helps with depression and nerves.
If you think this blend will help you at your next Indian Head Massage treatment we can try it and see how you feel after!

I have to say I feel like I am benefiting – calm, so calm and loving the scent!