We had a lovely Sunday lunch with our gorgeous girls..I couldn't decide which dish to make as they both looked good! Plus Naomi is still having Wisdom teeth issues so had to take easy eating into consideration, the sweet potato was fine but the lentils not so good for her gums, roll on March 9th!!

Anyway Naomi not having her portion meant Chloe could have seconds and was happy to take thirds home!

My mum used to make lentil shepherds pie when Chloe started on real foods as a baby, she loved it then as well 😄

Adding Tofu that had been marinating in herbs and spices really added to the taste in the Shepherd Pie recipe, as we again didn't have everything available..we just worked with what we did have. Seeking Tamari sauce as well now!

Love the https://holycowvegan.net/ recipes, easy to follow and mostly we can get the ingredients, just no Guiness in the shops when we were looking so Rob wants to make it again with Guiness or a dark stout! I'm hoping we find the stout very soon 🙂


Vegan Guinness Pie
A bubbling, golden and vegan Guinness Pie made with blonde Guinness, veggies like carrots, potatoes, celery and tomatoes, and chunky bits of vegan chick'n. Perfect for cozy dinners or for the holidays. Nut-free and can be gluten-free.
Course: Main Course Cuisine: Can be Gluten-Free, Irish fusion, nut-free, Prep Time 15 minutes
Cook Time 1 hour
Servings 8 servings
Calories 410kcal
Author Vaishali · Holy Cow! Vegan Recipes
Ingredients
1 sheet puff pastry
1 tbsp extra virgin olive oil
1 large onion (finely diced)
1 large carrot (finely diced)
2 stalks celery (finely diced)
10 cloves garlic (smashed and chopped)
2 large potatoes (red or yellow, diced)
½ tsp thyme (if substituting, use 1 tbsp of fresh herbs)
½ tsp rosemary
2 tbsp unbleached all purpose flour (use rice flour for a gluten-free version)
12 oz beer
1 cup canned tomatoes (canned, or any canned plum tomatoes, crushed with your fingers, along with the juice)
8 oz vegan chick'n pieces (use white beans, tofu or tempeh for a gluten-free version)
1 cup vegetable stock
Salt and ground black pepper to taste
8-10 fresh basil leaves (torn or cut into ribbons)
2 tbsp vegan butter
Instructions
Heat the oil in a saucepan. Add the onions, carrots and celery along with a dash of salt and ground black pepper. Sweat the vegetables until the onions are translucent. You don't want to brown them.
Add the garlic, saute a few seconds, then add the potatoes, rosemary and thyme. Mix well.
Add the all purpose flour and saute for a couple of minutes, stirring constantly. Add in the entire bottle of Guinness. Alcohol is highly flammable, so when adding it to anything that's on the stove, make sure you either turn your flame off, or reduce it really low so it doesn't catch any spatter.
Stir the stew and let it bubble away for a couple of minutes. It will look really thick at this stage because of the all purpose roux, but that's fine.
Add the tomatoes and let the stew continue to cook, covered, for about 10 minutes. You want to let the potatoes get tender and you want the bitterness of the Guinness to dissipate to your liking. The more you let the stew cook, the more you'll cook out the alcohol.
Add the chick'n pieces to the pot and, if needed, add some of the vegetable stock to thin out your stew. You can make this as thick or thin as you want. I prefer my pot pie filling really thick, so I used less.
Check to see if you need more salt and ground black pepper, and turn off the heat after the stew comes to a boil. Stir in the vegan butter and the basil.
Preheat the oven to 400 degrees Fahrenheit.
To assemble your Guinness pie, pour the stew into a two quart baking dish (a deep-dish pie plate works too)
Cut the puff pastry sheet into strips with a pastry cutter or pizza cutter. Depending on the width or diameter of your baking dish, you may need to roll out the puff pastry a little to fit. Now layer on the strips over the stew, as nicely as you can, forming a lattice top. Trim any overhanging edges. Or, if you'd rather not do this, just place the puff pastry sheet over the stew and cut a few slits in the middle, as you would for a pie.
Place the Guinness Pie in the oven and bake 30 minutes or until the puff pastry is all golden and the stew is bubbling around the edges.
Remove from the oven and serve hot.
Nutrition
Calories: 410kcal | Carbohydrates: 39g | Protein: 13g | Fat: 20g | Saturated Fat: 4g | Potassium: 597mg | Fiber: 5g | Sugar: 4g | Vitamin A: 1862IU | Vitamin C: 17mg | Calcium: 75mg | Iron: 5mg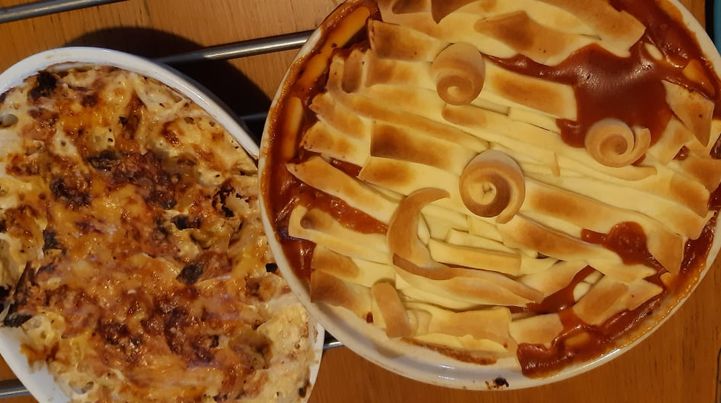 For the second choice I made this scrummy dish….
Vegan Irish Shepherd's Pie
My vegan Irish Shepherd's Pie has a savory, delicious base of lentils, mushrooms and more vegetables topped with creamy, velvety mashed potatoes that bake up all crusty on this top. This is an updated version of a recipe that I first posted in 2015. A vegan, gluten-free, nut-free recipe.
Course Main Cuisine Irish Prep Time 20 minutes
Cook Time 45 minutes
Total Time1 hour 5 minutes
Servings 12 servings Calories 382kcal
AuthorVaishali · Holy Cow! Vegan Recipes
Ingredients
1 8- oz package of smoked tempeh, very finely chopped
2 cups cooked brown lentils
12 cremini mushrooms, minced
1 medium onion, finely chopped
1 tbsp chopped garlic
2 sticks celery, finely chopped
2 medium carrots, finely chopped
1 cup green peas
2 tbsp Irish whiskey, optional
1 tbsp extra virgin olive oil
1 tbsp chopped fresh thyme
2 tbsp chopped fresh mint
3 tbsp tamari
½ tsp paprika
½ tsp cayenne
2 tsp dijon mustard
Salt and ground black pepper to taste
For mashed potatoes:
12 Yukon gold potatoes (boiled in their jackets until tender, then peeled and mashed)
1 tbsp extra virgin olive oil
¼ cup nondairy milk (almond, soy, rice and hemp milk will all work)
Salt and ground black pepper to taste
Instructions
Make the mashed potatoes by mixing together the potatoes, olive oil, almond milk and salt and ground black pepper. Set aside.
Heat the oil for the filling in a saucepan. Add the onions, celery. peas and carrots and the minced garlic. Add salt and a good pinch of ground black pepper. Saute until the onions turn translucent.
Add the mushrooms and tempeh and the whiskey. Saute, stirring frequently, until the liquid has evaporated.
Add the tamari, mustard, thyme, mint, paprika, cayenne and some ground black pepper. Mix well, then add the lentils.
Cook until most of the moisture has evaporated. Add salt.
Oil a baking dish (I used an oval one that's 10 inches long). Spoon the lentil-tempeh filling into the dish.
Layer on the mashed potatoes evenly. When you're done, run the tines of the fork through the top of the potatoes to give it a pretty, traditional look.
Spray the top with some oil. Preheat an oven to 400 degrees Fahrenheit and bake the Shepherd's Pie for 25 minutes.
Serve hot.
Nutrition
Calories: 382kcal | Carbohydrates: 57.5g | Protein: 21.3g | Fat: 9.4g | Potassium: 1259mg | Fiber: 14.6g | Sugar: 4.1g | Calcium: 90mg | Iron: 5.8mg
Sometimes though we just have to make changes to recipes because we can't find ingredients or because they don't suit my tummy (celery is always omitted) but we make adjustments and generally they taste good still…
A complete hit on Sunday and leftovers yesterday, although someone pinched the pie pastry topping but the filling was super tasty, so it didn't matter…
If you want to try lovely wholesome food for pop over to check out Holy Cow Vegan Instagram/fb page we are still pretty new to this way of eating so finding great recipes makes life that bit easier!

And let's face it – comfort food is what we seek this time of year and with these recipes you can add in or take out whatever doesn't suit you!

Anyway go have a peek and see all the lovely recipe ideas and let me know if you make or bake something!