The Treatment Room has been warm and cosy and smelling beautifully (Palo Sticks are so nice and give a really comforting scent to the room!) And with the different blends of oils used this week – a plethora of scents hit the nose, from Citrus to Flowery and some rather warming ginger added to the mix!
I thought I would start a Monthly/Weekly Round Up of news and ideas for Holistically Yours as after Treatments I sometimes am asked various questions…

Firstly I am often asked about the Essential Oils and Rollers etc that I use in the Treatment Room and I thought it would be worth mentioning that I can obtain the Essential Oil blends should anyone wish to enjoy them in between TREATments….I do need to order the Essential Oils and Blends so I would need an idea of how many would be wanting to place an order.

The prices for Essential Oils start at 5€ there are so many to choose from so if you know there is a particular EO you favour then let me know and I will see if they sell it!
10ml Premium Essential Oil Blends which are included in the Gift of Relaxation Bags start at 6,00€ this depends on the blend and again there are a few choices to be had!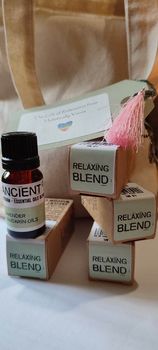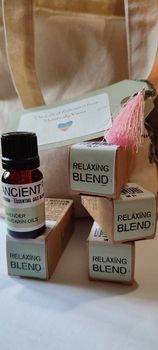 Massage Oil Blends start at 8,50€ for 50ml (they last well, especially if a small amount is heated for a minute or two, prior to application.
The Blends used in the TR are:
Muscle Ease Massage Oil – 50ml Ingredients : Lavender, Peppermint and Eucalyptus Essential Oils blended in Grapeseed Oil.
Special A2 Mix Massage Oil – 50ml Ingredients : Rosemary, Lavender, Myrrh & Ginger Essential Oilsblended in Grapeseed Oil.
Relaxing Massage Oil – 50ml Ingredients : Lavender, Fennel, Peppermint & Chamomile Essential Oils blended in Grapeseed Oil.
Wellbeing Massage Oil – 50mlIngredients : May Chang and Ylang Ylang Essential Oils blended in Grapeseed Oil.
Joints Ease Massage Oil – 50ml Ingredients : Rosemary, Ginger and Geranium Essential Oilsblended in Grapeseed Oi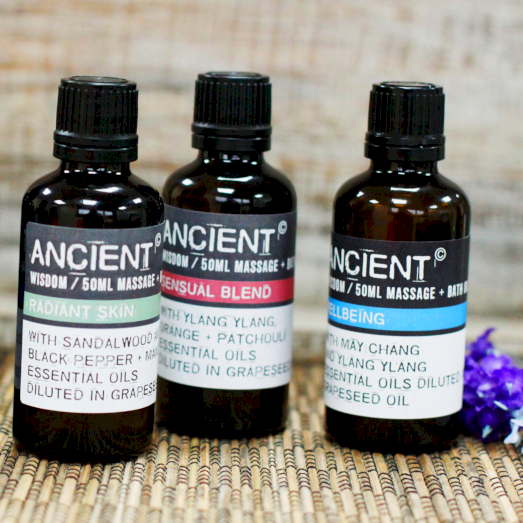 Palo Santo Sticks starting at 8€ for 5 Sticks Incense cones and/or Incense sticks prices depend on which make and scent you choose – for further information you can see my post re incense cones which are included with the Gift of Relaxation Bags but once again there are a few varieties to choose from!

If you have a Gift of Relaxation Bag and would like to top up the Incense Cones and/or the Relaxation Blend not a problem – just let me know and I can add to an order!

Talking of those lovely gift bags – I am so happy with the feedback it really gives me joy! Whether you are a giver or a receiver – thank you for letting me know that you are loving the concept and benefitting from the items in the bag! I had an idea the other day – of a little way of personalising the bags – so you can now add the name of the recipient on the little piece of natural wood as a great little gift tag!! Sorry for those that have already given a bag as a gift – but there are still some in stock so, it's not too late to buy another for a loved one!

A new range is now available for Diffuser Users: Plant Based Fragrance Oils, Stamford Aroma Oils are made from naturalplant-based ingredients and diluted in a dipropylene glycol carrier to create a variety of fragrances. They contain a higher proportion of essential oil, making the scent last longer. They can be used with a traditional oil burner or an electric diffuser and come in 10ml bottles with 100% recyclable packaging. Whether you prefer to use a traditional oil burner or an electric diffuser, our 10ml bottles are the perfect size to try out different scents and find your favourite.
Sold in Gift Box – 100% Vegan – No Harmful Chemicals! From Lavender scents to Anti Stress there is a choice for everyone!
Prices start at 5€00

Orders will be made on a bi monthly basis depending on demand, to qualify for better postage deals I have to a minimum order total of 60€00 then postage will be divided between us all which I think is a fair way of keeping costs to a minimum for all.

I also have 2 Quartz Face Rollers for sale – Jade and Rose which are both used with a Tsuboki Face Massage. Again these can be ordered for you to collect! The Jade Roller is 5,50€ and the Rose Quartz is 7,50€ see pictures for information about the benefits of the rollers for your skin. If you love your Tsuboki Face Massage you will really benefit inbetween massage from these magical rollers.

I was also told that a post I added about a cancellation was really useful as my client could then book that time for their #self care, I will continue to do those posts!

And just a reminder that Gift Vouchers are available all year, from 20€00 – 50€00 personalise your present for your special person, available for collection, La Poste (price of a 1st class stamp to be added to total) or emailed to you.

If there is anything I can help with then please don't hesitate to contact me I am happy to help 🙂