I have to say this is one of my most favourite "flat breads" to make – it is simple, 3 ingredients (and spices) and takes about 15 minutes to prep and only half hour to cook.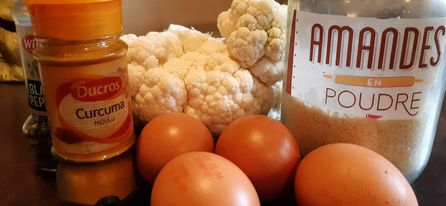 Hot out of the oven with spinach and poached egg or with avocado and hard boiled egg mash & salad, is our favourite way to serve it. It can be served with anything though – enjoy it for lunch or a light evening meal, and it's also good for breakfast with some Nut Butter on it!

2 cups of Cauliflower rice (in the processor is the easiest way)
1 Cup of Almond flour or meal
4 Eggs whole but you could use just the whites!
Tumeric about 3 tpoons
salt 1/2-1 tsp
Mix it all together – put in a lined baking tray (I use a swiss roll type tray) and bake for 30mins.
Cut into portions you should get 6 squares if using a swiss roll type baking tray.
spread out evenly in a baking tray and pop in pre-heated oven for 30 minutes
Still using the Cauliflower I also made another version of this recipe using Polenta in place of the Almond Flour.
In place of eggs use Linseed or Chia seeds (presoaked)
and a drop of plant based milk for consitistency.
I added
Feta Cheese
Olives – Green and Black where also added to this flatbread
Sunflower seeds / courgette seeds for topping
paprika/tumeric/ground cardomon/black pepper and garlic
Chopped Chillies would be good too!
Anything can be added in to the mix in all honesty it depends on what you fancy or what is in the cupboard/fridge!
Polenta could be used in place of Almond Flour/Meal

Serve hot or cold and it lasts in a container in the fridge all week or you can pop it in the freezer!

If you are counting calories – it's about 90 cals per portion.

Health Benefits of Cauliflower Flatbread

As for vitamins and nutrients, one serving of cauliflower has:
100% of the daily recommended amount of vitamin C.
About a quarter of your daily vitamin K.
2% of your daily calcium and iron.
6% of your daily potassium.
More than 3 % of your daily magnesium.

Almond meal and flour have virtually the same nutritional profile. However, because almond meal contains almond skin, it has a higher fibre, mineral, and antioxidant content. Also it is low in carbs and has an extremely low glycemic index due to which it reduces sugar levels in the blood, rich in vitamin E and other antioxidants. It's also an excellent source of:
Manganese.
Magnesium, Copper
Phosphorous
Calcium
Iron
The many benefits of eggs include:
Vitamins A, B5, B12, B2 add to your daily recommended requirement.
Vitamins B6, D, E, and K are found in eggs.
Selenium is a cancer-fighting antioxidant.
Phosphorus aids in healthy bones and teeth.
Calcium helps your bones stay strong.
Zinc helps your immune system.
Folate.
Protein.
What are the Benefits of Polenta?
Polenta contains carbohydrates and protein. A 30-gram tablespoon of polent flour provides:
24 g of carbohydrate
2 g of protein
1 g of fiber
0.6 mg of iron
Certain varieties of polenta are enriched with minerals and vitamins to increase the nutritional value. Making polenta with milk instead of water can add valuable nutrients. In general, polenta is a good food choice due to the following benefits:
1. Source of fibre and protein
2. Polenta is gluten-free
3. Rich in complex carbohydrates
4. Contains vitamin A
5. Source of carotenoids
6. Low in fat
7. Contains essential minerals
8. Low calorie
Polenta is a healthy alternative to other side dishes, such as potatoes, pasta, and rice. Because it does not have a strong flavor, it can accompany a variety of foods.
People with celiac disease, a gluten sensitivity, or who are on an elimination diet may find polenta to be a good substitute for wheat dishes. It can also sometimes be used as a substitute for wheat flour when baking.

Well, I hope you have the chance to try and make this versatile flatbread – ours is being served with a chicken salad for this evenings meal…it may well have a side of black bean hummus to accompany 😉

Bon Appétit!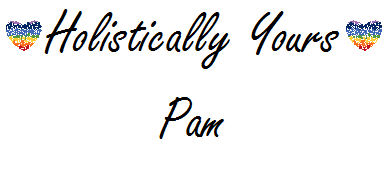 Disclaimer As always these articles are sourced from various websites and coursework I have studied and completed . If you have any health issues or allergies then please make sure you do your research before adding to your diet. These articles are for wellbeing and not to replace any medication you maybe on. I am not a doctor – but a qualified Holistic Nutritionist who enjoys sharing love of nutrition including any of the health benefits of food sources and Essential Oils….