HOLISTICALLY YOURS· FRIDAY, 29 NOVEMBER 2019
As strange as it may seem, much of our mental health is determined by our digestive system. What we feed our bodies can drastically effect our emotions, which is great news in that it means we can address certain issues—such as anxiety—holistically, using food as medicine.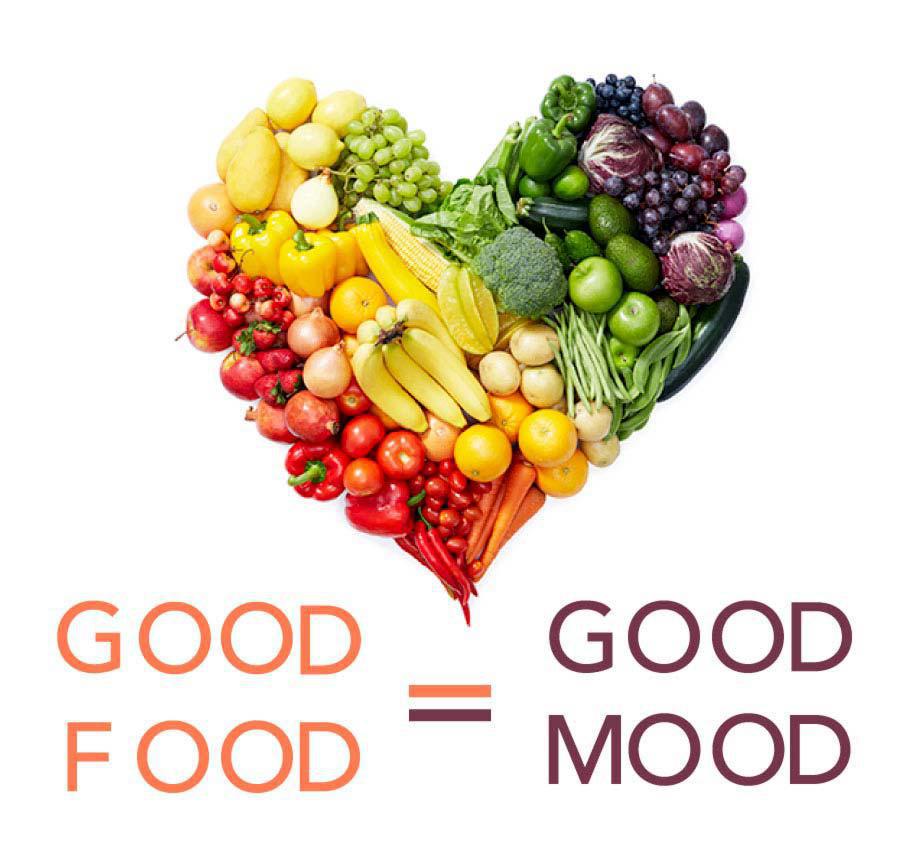 By now you probably know that a healthy gut is key to keeping your digestive system running smoothly. But according to an increasing number of doctors, a happy gut could also promote, well, overall happiness—along with stable moods and a stronger memory.
Starting with our tummies, as it's a very good place to start – our gut needs good food, so that it functions correctly, if we are constantly eating incorrectly and not nourishing our insides we are not working at our best…
"Every piece of food we put into our mouth communicates to our genes, cells, organs, and tissues, so every time we eat, we make a choice about what kind of communication we want to send and how we want to feel."



Michelle Babb, RD, author of Anti-Inflammatory Eating for a Happy, Healthy Brain
So what kind of foods actually give our gut that boost? Probiotics (think yogurt, kimchi, and other fermented foods) are a great place to start, but they aren't the only things that matter when it comes to good tummy vibes.
Prebiotics are equally important. Found in foods such as; onions, walnuts, and oats, prebiotics are foods that probiotics feast on. Meaning these do best together.
Omega-3 fatty acids—which are found in salmon, chia seeds, walnuts, and more — reduce inflammation and help speed up neuronal communication, which promotes more stable moods and better focus.

Tryptophan (tofu, eggs, and chicken are great sources) is not only essential for a good night's sleep but is also a precursor for serotonin, which regulates mood and appetite.

Also, polyphenols, like those found in spinach and broccoli, help stimulate the growth of good bacteria and stifle the growth of bad bacteria.
Following my previous article here http://holistically-yours.com/superfoods-for-a-healthy-body-pt-2-food-mood/ I wanted to share a couple of recipes with you from various sites that use the best foods for anti-anxiety.

Every site you look at are all singing from the same song sheet – good food = good mood…..so to get started I have found some really simple meals that can be enjoyed at anytime and hopefully will give you some ideas for meal planning and menus for the coming weekend/week ahead!

This first recipe is delish. It is absolutely going to be added to our menu rotation! I adore barley! However you can swap out chick peas for another type of bean and use red or white onion if you cannot find yellow!* You can substitute the chicken/turkey with Tofu or Seitan etc…
Chicken, Butternut Squash, and Barley Skillet Dinner
Active Time 20 Mins
Total Time 40 Mins
Yield 6
This one-pot dinner is simple and satisfying. Onions and yogurt mean you get both pre-and probiotics in one meal.
Ingredients
2 tablespoons oil, divided
1 1/2 pounds boneless, skinless chicken or Turkey thighs
1/2 teaspoon black pepper
1 1/4 teaspoon kosher salt, divided
2 cups chopped yellow onion
6 garlic cloves, sliced
1 1/2 teaspoon ground cumin
2 cups precut butternut squash (10 oz.)
1 1/2 cups uncooked pearled barley
2 cups unsalted chicken stock
1 15-oz. can no-salt-added diced tomatoes, drained
1 15-oz. can no-salt-added chickpeas, rinsed and drained
1/3 cup plain whole-milk Greek yogurt
2 tablespoons water
1/2 cup chopped toasted, unsalted almonds
1/4 cup chopped fresh cilantro (optional)
Nutritional Information
Calories per serving 552
Fat per serving 15g
Cholesterol per serving 108g
Fibre per serving 15g
Protein per serving 36g
Carbohydrates per serving 67g
Sugar per serving 7g
Sodium per serving 608mg
Iron per serving 4mg
Calcium per serving 144mg

How to Make It
Heat 1 tablespoon of the oil in a large, high-sided skillet over high. Season chicken with pepper and ½ teaspoon of the salt.

Cook in hot oil until well browned on 1 side, 4 to 5 minutes.
Remove from skillet.Reduce heat to medium-high.
Add remaining 1 tablespoon oil to skillet.
Add onion and garlic; cook, stirring often, until softened, 3 to 4 minutes. Add cumin; cook, stirring often, 30 seconds.
Add squash and barley; cook, stirring occasionally, until barley is lightly toasted, 2 to 3 minutes.
Add stock, tomatoes, chickpeas, and remaining ¾ teaspoon salt; bring to a boil.

Cover and simmer until barley and squash are tender, about 20 minutes.
Return chicken to skillet, nestling with browned side up.

Cover and simmer until a thermometer inserted in thickest portion of chicken registers 160°F, about 5 minutes.

Remove from heat. (Temperature will continue to rise to 165°F.)
Whisk together yogurt and water in a small bowl.
Drizzle over chicken. Sprinkle with almonds and, if desired, cilantro.


Research shows that omega-3 foods such as salmon reduce anxiety. As a bonus, the almonds in this recipe are rich in B vitamins, which have also been shown to have calming benefits.
Almond and Coconut Crusted Salmon Bites
Makes 24 bites
Ingredients:
12 ounces boneless, skinless salmon fillet, cubed into 1/2 inch pieces
1 cup all purpose flour
2 eggs, beaten
2/3 cup almond meal
1/3 cup sweetened coconut flakes
salt and pepper to taste
Meyer lemon dipping sauce:
3/4 cup Greek yogurt
2 tablespoons honey
juice and zest of one Meyer Lemon *Citrus × meyeri, the Meyer lemon, is a hybrid citrus fruit native to China. It is a cross between a citron and a mandarin/pomelo hybrid distinct from the common or bitter lemon.
1 lemonsalt and pepper to taste
Directions:
1. Preheat oven to 375˚F.
2. season salmon cubes with salt and pepper
3. Place flour and beaten eggs into separate shallow bowls
4. In a third shallow bowl, combine the almond meal and coconut and mix together
5. Dredge salmon bites in flour and shake to remove any excess. Then dip each piece into the eggs, followed by the almond-coconut mixture
Shake bites to remove any excess and season with salt and pepper
6. Place bites onto a parchment lined baking sheet
7. Bake bites for 15 to 20 minutes or until golden brown. Remove from oven and allow bites to cool, 5 to 7 minutes.
8. Meyer lemon dipping sauce: Place all ingredients into a small mixing bowl and whisk together until smooth. Adjust seasonings and serve with salmon bites.
Quinoa is a complex carbohydrate that can increase serotonin in the brain. Eggs, meanwhile, are rich in zinc, which has been linked to lowered anxiety.
Finally, asparagus is so effective in battling anxiety that the Chinese government approved the use of asparagus extract as a natural functional food.
Quinoa Egg Salad With Grilled Asparagus
Asparagus
½ pound asparagus
1 tablespoons olive oil
1/4 teaspoon sea salt
1/4 teaspoon black pepper

Quinoa Egg Salad
1 1/2 cups cooked quinoa
3–4 hard boiled egg, chopped
2 teaspoons minced parsley
1 ounce feta
2 tablespoons sunflower seeds
2 tablespoons olive oil
1 tablespoons lemon juice
1–2 teaspoons dijon mustard
1–2 teaspoons honey

Directions
Light grill or preheat grilling pan. Trim ends off asparagus and toss with olive oil, salt, and pepper. Place on grill and cook, turning occasionally, until cooked and slightly charred, 8-10 minutes.
Remove from grill and place on a plate.
In a bowl, combine quinoa, chopped egg, parsley, feta, and sunflower seeds. In a small container with a lid, add olive oil, lemon juice, mustard, and honey.
Shake until well combined, taste, and adjust flavors as desired.
Drizzle dressing over the quinoa mixture and toss until everything is combined and well coated.
Scoop quinoa over the asparagus and serve.

Blueberries
When we're anxious and stressed, our bodies crave vitamin C to help repair and protect our cells, and blueberries are packed full of it. Small but mighty, blueberries are bursting with antioxidants and vitamin C which have been shown to provide anxiety relief.
This healthy fruit smoothie combines blueberries, bananas, fruit juice and vanilla, and it tastes exactly like rich, heavenly blueberry pie, minus the crust.
Frozen blueberries are used instead of ice, which makes it less watery and more flavorful than most smoothies. This delicious frozen treat can be ready in just three minutes, and it is the perfect snack to enjoy in the middle of the afternoon.

Blueberry Smoothie

Serves 2
This healthy, vegan, gluten-free, no-sugar-added smoothie tastes like blueberry pie filling. It's sweet, satisfying, full of antioxidants, fibre, and tastes like a blueberry pie, minus the crust.

Use frozen blueberries so you don't need to add ice, and they're readily available and less expensive, although you can use fresh blueberries. Use your favorite liquid (plant based milk or water) for blending and add slowly to achieve desired consistency

INGREDIENTS:
12 ounces frozen blueberries, do not thaw (fresh may be used, but you'll likely need to add ice)
1 med/large ripe banana peeled and previously frozen in chunks is ideal
1 cup blueberry, grape, cherry, or pomegranate juice OR plant based milk or Water.
1 teaspoon vanilla extract

DIRECTIONS:
Combine all ingredients, except start with about half the amount of juice and add only as necessary to to achieved desired consistency in the canister of a blender and blend until smooth and creamy. Blueberries take awhile to break down, so you may need to blend for a couple minutes.Serve immediately.
Extra portions may be frozen in freezer-safe (plastic) glasses for up to 3 months. Allow to soften at room temp before serving.
Bananas are Potassium-Packed, which is super important for calming your stress levels! This is because bananas contain tryptophan (the precursor to serotonin), known to make you relax, improve your mood, and generally make you feel happier, bananas are high in B vitamins, which help calm the nervous system.
Banana-Berry Baked Oatmeal Bites
Yield 20
Ingredients:
1 ripe banana
1 cup almond milk
1 large egg
1/3 cup pure maple syrup
1½ teaspoons pure vanilla extract
1 tablespoon coconut oil (in liquid form)
1 teaspoon lemon zest
2 teaspoons lemon juice
2 cups gluten-free rolled oats
1 teaspoon ground cinnamon
½ teaspoon kosher salt
1 teaspoon baking powder
1cup fresh blueberries (or berries of your choice)

Instructions
1. Pre-heat your oven to 350 degrees. Spray a mini muffin tin with cooking spray.

2. Place the banana in a large bowl and mash well with a fork. Add the almond milk, egg, maple syrup, vanilla extract, coconut oil, lemon zest and juice, and whisk until smooth and well combined.
In a separate bowl, combine the oats, cinnamon, salt and baking powder. Add the dry ingredient to the wet ingredients and whisk to combine.
Stir in the blueberries.

3. Spoon the oatmeal mixture into the prepared mini muffin tin. Filling the wells almost to the top. You should have enough oatmeal for 20 bites.

4. Bake for 18-20 minutes until the oatmeal has set and the tops of the bites are lightly browned. (At this point you can simply let your bites cool.
5. Let the bites cool in the muffin tin for 10 minutes. Serve warm OR carefully transfer them to a wire rack to cool completely and then refrigerate/freeze in an airtight container until you're ready to eat.

Notes; Try the bites warm with extra almond milk or a dollop of Greek yogurt.


If you try any of the above recipes or are adding any of the foods suggested in the articles please do share!