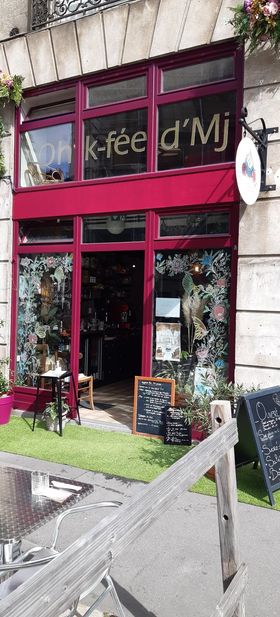 We went to Nantes on Sunday – it was for a very good reason, but so we didn't have to leave the house at the crack of dawn Monday morning we decided to make a little trip away – quite rare but much appreciated these days!
We have been to Ikea previously (of course) and spent a few hours killing time when the youngest went to see Ed Sheeran a few years back, at the Atlantique centre. But this time we were going to play tourists and enjoy exploring more of Brittany!


We arrived for lunch – great timing Mr S!
We hadn't quite decided where to go or indeed what to eat. Having no idea of Nantes or the restuarants and of course, being a Sunday what would be open…

Ten minutes in from the parking, and just past the Cathedral a little resto was spotted by himself….we went to look and decided that this was going to be the choice!

The menu looked delish and all vegetarian/vegan and gluten free choices, we had no idea what to expect in all honesty.


We were greeted by a lovely lady (turns out she was Morgane, the proprietors Mum) and sat in a cosy corner with a menu of hard choices to choose from!

To start, the choice of Cocktail was a no brainer – Gin based and fruit with sparkling water…there was a non alcholic choice as well but we were on a holi-oneday and really for the chance of trying Gin with something other than tonic was quite appealing 😉


Then onto the menu choices, which all looked lovely. To be honest I am rather partial to Flan/quiche – and served warm with salad would follow on perfectly from the Gazpacho soup! We also decided to try the Trio Gourmande for Dessert, the best of all worlds.


I have to say Rob isn't a lover of Gazpacho, he has tried it but it's not his thing so I was looking forward to helping him out! However, that didn't happen..this gazpacho was entirely different from any I have tried before and it was delicious, refreshing, light and very moreish! The little Pysilium roll that accompanied was also so very tasty!
Our Flan was laden with mushrooms and courgettes, not to over the top on cheese and the base was divine…nutty in taste, light & flaky and once again so very moreish.
And of course our trio of desserts did not fail to please us….
A Flan base Chai Tea with figue….a heart made of date topped with fruit and warm gluten free banana cake that was just so light!
And a lovely cup of coffee to finish off!

We had a budget of course, we have eaten far less food and poor quality ingredients, and paid far more at other places in the past but the food was so totally enjoyable and so, so very tasty, which when you are trying to eat well and keep the balance of enjoying food and trying to be healthier, even when out for the day made the choice of eating here far easier.

Morgane and her Mum made us feel so welcome it was really lovely, especially in a rather large city!
Morgane cooks/bakes some incredibly lovely tasting food and it's always hard when you don't know what to expect, especially when trying out somewhere completely unkown and different foods on the menu to the usual meat based dishes… and the best thing was being able to have a chat about the food and finding out a little more about the fresh ingredients plus how to best use grains such as Pysilium!

We are going back to Nantes in six months and you know what, we have already decided where we will eat. I just wish that we could go again sooner, to be fair – there's not reason not to is there? We are not so very far away here in the Deux-Sèvré and so worth it for a wander, the chance to take photos and eat a really hearty, wholesome meal that left us quite full until the late evening and meat – nah that wasn't missed at all!
In fact we had lots of energy, no post lunch slump – you know that time when you have eaten well (very well) and don't want to actually have to move and definitely no need for an afternoon snack just a coffee and Guiness sufficed much later after we had walked around the Chateau and Botanical Gardens, we didn't feel even slightly peckish and didn't think of having the need to eat a snack or treat of something such as an ice-cream!!

If you go to Nantes first turning on the right opposite the Cathedral and you will find this little welcoming restuarant that has a chef that cooks with heart and passion……is happy and friendly and I think I can say we have been inspired by her, I love her energy and the style she has created for this lovely eatery.